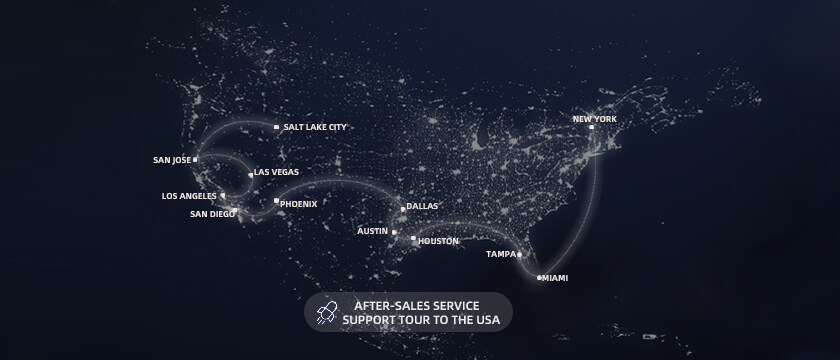 On October 8, 2022, a team of CapsulCN's sales and technicians headed to the U.S. for a customer visit, which is one of our tactics to achieve the vision - Let Chinese Machines Win Hearts Worldwide. As CapsulCN's business continues to spread throughout the globe, we have successfully exported our products all over the world and have built a solid customer base. Thanks to superior product quality and considerate after-sales service, our business is still flourishing even during the pandemic.
For a typical e-Commerce project, the deal is done as soon as the buyer receives the shipment from the seller. But why do CapsulCN's employees travel all the way to visit customers? First, we always keep the faith that selling products is only the starting point, while delivering consistently great customer service is the trump card to win the hearts of customers and propel the company to sustained success in a competitive market. Second, if equipment manufacturers fail to implement after-sales service and lack professional knowledge of installation and commissioning as well as daily upgrades and maintenance, the machinery and equipment would have a shorter lifespan, thereby impacting the ROI of your customers. Third, CapsulCN has always wanted to be the first choice of customers looking for strategic alliances, regardless of where they come from.
CapsulCN is never all talk and no action. We began to offer field service as early as 2016. This year, three employees, Chen Xiaofei, Xiao Xiang, and Wang Lijun, taking all necessary precautions against COVID-19, have set off on a customer visit tour from New York, Miami, Tampa, Mexico, Guatemala, and Ecuador, to Peru. They helped each customer troubleshoot all equipment problems and carried out necessary maintenance and repair work to ensure that their production went smoothly, thereby creating a win-win for both sides.
Customer recognition and compliments are always the driving force for CapsulCN to keep moving forward. Focusing on providing quality pharmaceutical machinery and one-stop solutions, we will continue to carry out R&D, design, and manufacturing to strive to become an industry leader.